Latest News
Important updates at Bird's Basement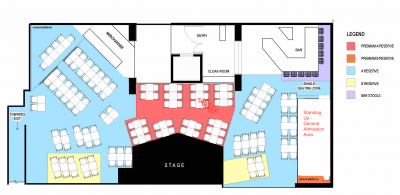 01/11/2016 | Latest News
Important updates to the venue were just announced at Bird's Basement. The early show will now start at 8pm as of November 1 and doors will open at around 10pm for the second show.
The Premium B area has been eliminated and replaced with a Standing Only - General Admission area. Many patrons have requested for a standing area in the past, where you do not have to purchase food.

As this area is next to the bar it is a great place to have a beer or a glass of wine while listening to your favourite band.
When you want to have dinner or supper you continue to book a table in Premium A, A or B.